Butter Tarts with Raisin's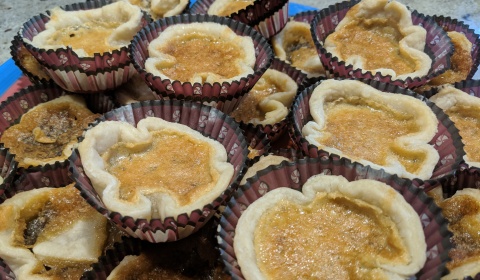 1 batch makes approx. 30 – 2-inch tarts
Tart Filling
Ingredients
1 ½ cup of Brown Sugar lightly packed

½ cup softened butter

2 tsp vanilla

2 eggs

2 tbs milk
Whisk butter and brown sugar until combined, add eggs, vanilla and milk and whisk until all ingredients are blended.
You can either add the raisins at this time or choose to add them to the bottom of the tart shells 1st then spoon the butter tart mixture over top of the raisins.
Pastry
Ingredients
6 cups of bread or pastry flour or 5.5 cups of all-purpose flour

2 tsp Salt

1 pkg of pastry lard (Tenderflake)

An egg

1 Tbsp vinegar or lemon juice
cold water to make 1 cup when mixed with egg and vinegar
Instructions
Mix together flour and salt in large bowl cut in pastry lard until it resembles coarse oatmeal
Add Egg Vinegar and water together to make a slurry.
Mix slurry to dry ingredients into the dry ingredients. mixing slowly and kneading gently until the dough forms a ball.
Cut dough into 3 sections and refrigerate for 30 minutes minimum. The dough can be frozen if not planning on using all 3 sections.
Roll out one dough ball until the dough is approximately â…›" thick. and cut out circles using a circle cutter or cup as we did.
Place dough circles in muffin trays and fill with the Tart Filling. Fill tart shells only 2/3 to allow for bubble over.
Bake for 12 -18 minutes at 400deg Fahrenheit. Check every minute after 12 to look for that golden crust.